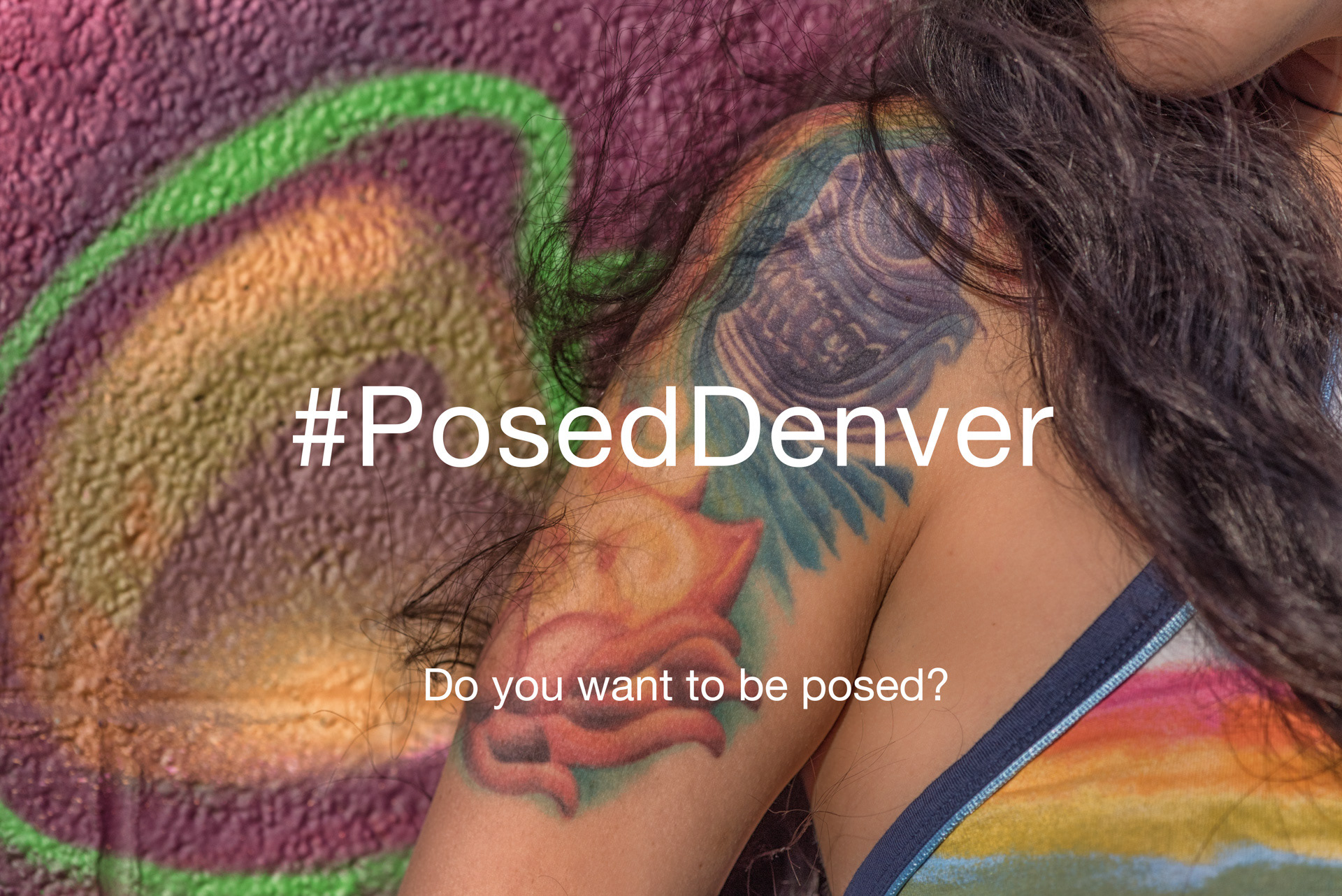 Questionnaire for Model Acceptance
#PosedDenver is a fine art portrait project set to begin shooting in Spring 2017. While I have never been a portrait photographer per se, I am intrigued with combining people imagery with what I love and see around, and feel about Denver. What that means for this project is that it is not the normal poses or smiling and pretty. It's about exploring the unique looks of normal people who are not models juxtaposed with the gritty not always pretty looks of Denver. I like to use bold shapes, lines, angles and colors in my work. This project will be about incorporating people into my vision of art that is Denver. I'm excited to meet you!
For this project I am seeking females 18+ years and older who are willing to be posed. I am looking for individuals with tattoos, piercings, interesting hair, nails or Denver style. There will not be anything pornographic, but the images will be edgy and different. I may just shoot your hands, or your eyes, or some faraway shots of you in the surroundings. Probably we will be doing all of that and more as each shoot evolves.
The shoot will take approximately 2 hours and will be held at a time when I can take advantage of special natural light so the timing is very important. The locations will be around downtown Denver, in public locations, alleys, stairs, buildings, etc, so you must be willing to be seen in public and just ignore the looks we may receive.
In order to be considered for inclusion in this project I need to get some information from you first. Please answer a few questions for me and return this form along with a recent image of yourself. We will need to set up a short in-person meeting first so I can meet you, have you sign my model release, and answer any questions you may have. I wsee you in 3D so I know what to expect when I think about and plan our shoot.
1. What days and times are you available for a short 15 min-30 min. in person meeting?
2. What location in the city is convenient for you to meet?
3. What days are you available to shoot in the late afternoon about an hour before to an hour after sunset?
4. Are you comfortable laying on the ground/pavement?
5. Please include your phone number for text messaging purposes. 
As a thank you for participation in my project you will receive one 5x7 print suitable for framing. Any digital images I share may also be shared by you with no alteration to the image or my watermark. Prints of each image are not available for sale. Some images may be used as fine art photographs and will be made into art that will be available for gallery purchase.