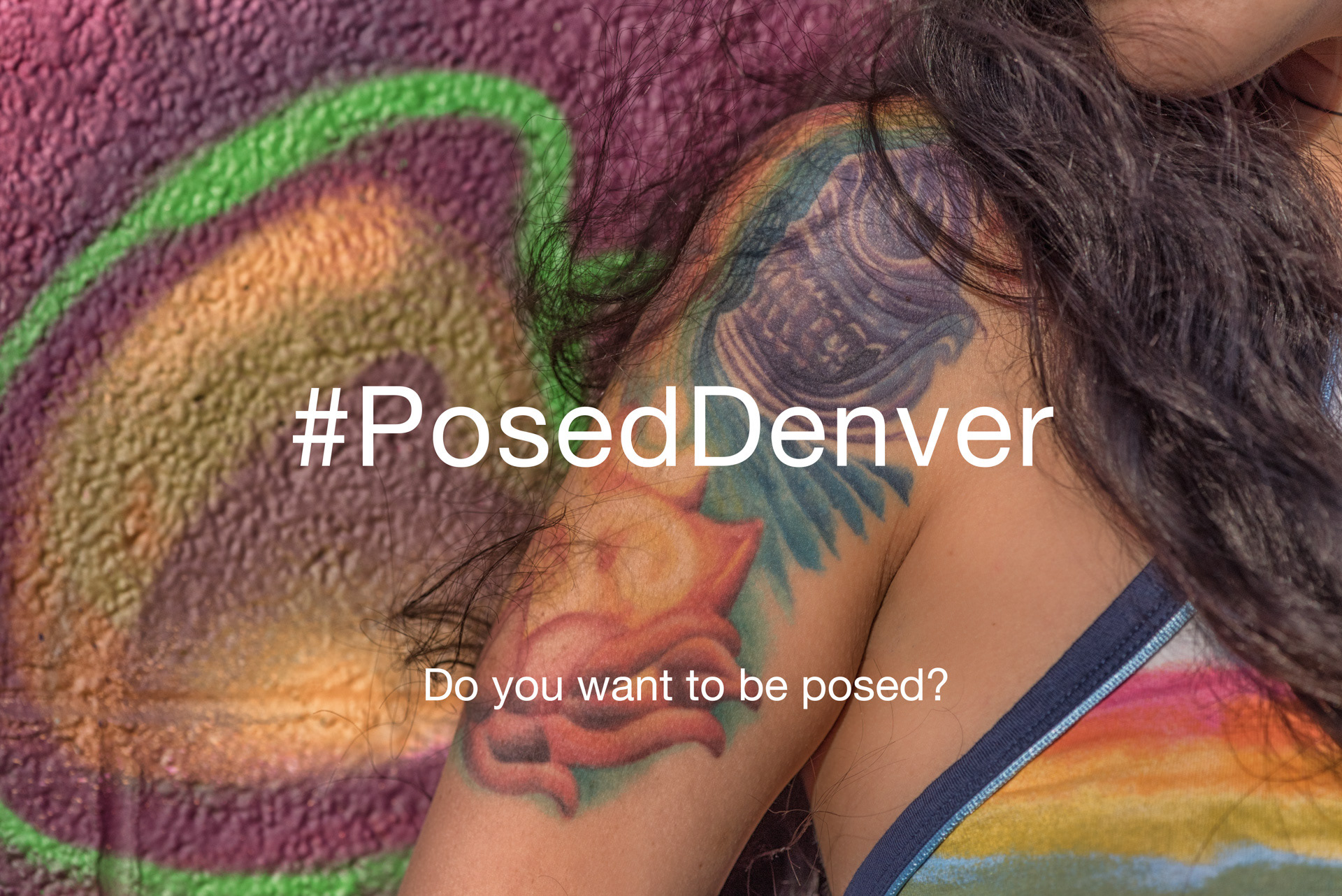 Questionnaire for Model Acceptance
#PosedDenver is a fine art photography project which began shooting in the Spring of 2017. 
The premise of the project is to use real women who are not models in normal life and to present them as visuals by using what you feel about yourselves, how you see yourself versus how others see you. I also want to make the images tell your stories so that we can explore socially relevant themes in today's world and you can see yourself juxtaposed how others might see you. This project is about empowering women to be themselves; you are the most powerful YOU!
While not a portrait photographer per se, I am intrigued with combining visuals of people with what I love, see and feel around Denver. What that means for this project is that it is not the normal poses, it's not about smiling and pretty. It's about exploring the unique looks of normal people layered with the sometimes gritty not always pretty looks of Denver. I like to use bold shapes, strong lines and angles and vivid colors in my work. This project will be about incorporating people into my vision of art that is Denver. I'm excited to meet you!
I am seeking to photograph females 18+ years and older who are willing to help me create and be a part of these visions and tell their stories through images. I am looking for individuals with tattoos, piercings, interesting hair, nails, Denver style, or whatever makes you unique. I am looking for women who want to just show up and be real, themselves. There will not be anything pornographic, but the images will be edgy and different. I will also want to incorporate a lot of emotion into the images. This may require some movement, like short bursts of running or other things such as being asked to act out an emotion to accomplish what I am looking for. Many of the images will have things added to them in post processing. These things in the past have included layering over other images of graffiti taken by me, creating my own graffiti to add, or other means of photo manipulation to achieve the message I am after.
The actual shoot will take approximately 2 hours and will be held at a time when I can take advantage of special natural light so the timing is very important. The locations will be around downtown Denver, in public locations, alleys, stairs, buildings, etc, so you must be willing to be seen in public and just ignore the looks we may receive. We will be busy creating our magic and may not even notice these things. *During the winter months I may want to do some short outside shoots with those willing. Otherwise, we will have the opportunity to do some shoots in a studio instead.
In order to be considered for inclusion in this project I need to get some information from you first. Please answer a few questions for me and return this form along with a recent image of yourself. We will need to set up a short in-person meeting first so I can meet you, have you sign my model release, and answer any questions you may have. I like to see you in 3D, and get a feel for who you are so I know what to expect when I think about and plan our shoot.

As a thank you for participation in my project you will receive one 5x7 print suitable for framing. Any digital images I share may also be shared by you with no alteration to the image or my watermark. Some images may be used as fine art photographs and will be made into art that will be available for gallery purchase.